The Laurels of Sandy Creek Staff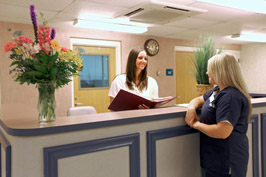 What differentiates one skilled nursing & rehabilitation center from another? The answer is... the people who work and reside there! The people set the tone, the atmosphere, and the expectations. At The Laurels of Sandy Creek, we take great pride in ensuring that everyone feels like part of our family, and that they are treated as special "guests" in our home.
The Laurels of Sandy Creek employs a team of highly qualified medical professionals, including a Medical Director, Registered Nurses, Restorative Care Nurses, a Wound Care Nurse, state tested Certified Nursing Assistants, Physical Therapists, Occupational Therapists, and a Speech Therapist. Our on-site Rehab, Dietary, Social Work, and Activities departments provide personalized and compassionate care to each guest. From the moment you walk through the front doors, the warmth and caring of the staff will begin to gain your trust and confidence, as they strive to exceed your expectations.
Unlike other facilities that use "contracted" staff members, each member of the team at The Laurels of Sandy Creek is directly employed, not "contracted". Each Team Member takes great pride in portraying "The Laurel Way of Caring", as they strive for excellence in providing only the highest standard of care and services to every guest, and to every family member and visitor. Come on in! Visit a while! Let us show you our very best... let us show you The Laurel Way.
Angel Brummette, Administrator
Angel earned her Bachelor of Science Degree from Grand Valley State University, where she majored in Health Science and received a minor in Public Administration. She entered the long-term health care field in 2003 and joined The Laurel Health Care Company in 2005. Along the way, Angel came to realize that her passion is in providing quality care to the senior population and comforting families with the knowledge that their loved one is in a safe, caring home. Angel earned her Nursing Home Administrator License in 2009 and in her role as Administrator at The Laurels of Sandy Creek and Maplewood of Sandy Creek, she enjoys working with the guests, families, staff, and the surrounding community.
Katie Newton, Director of Nursing
Katie Newton became a licensed practical nurse in 2012 and started her career with the Laurels company. She has worked as a Charge Nurse, Unit Manager, and Assistant Director of Nursing, Katie obtained her Registered Nurse license in 2015. In 2016, Katie accepted the position for Director of Nursing with Laurels of Sandy Creek. Some of her accomplishments are Certified Wound Care Nurse and certification through the National Institute of Stroke Prevention. Katie is currently working on her Masters in Nursing Administration with Ferris State University.
Shannon Schram, Director of Marketing
Shannon Schram grew up in Saginaw, MI and after college at Saginaw Valley State University started her career working as an Executive Director for a non-profit organization. Her position required much travel and after meeting her current husband and wanting to start a family decided to leave that position after 8 years to stay home and raise their son. After a short 6 months of staying home she decided it was time to return to the workforce and took a position working in the Senior Living industry as a Sales & Marketing Director for a local company in Grand Rapids. It was then when she realized she had a passion for seniors and really wanted to help them through the process in finding quality care and a place for them to call home. After 6 years of working in Assisted Living she was approached with the opportunity to work in the Skilled Nursing Industry and was up for the challenge! She has "found her home" at the Laurels of Sandy Creek in Wayland. Just 20 minutes from her home in Caledonia where she lives with her husband and two children she serves in her role doing what she enjoys most, helping seniors!
Keith Hintz, Rehabilitation Services Director
Keith Hintz grew up in Wisconsin and completed his internship at Spectrum and Mercy Hospital in Muskegon. He joined The Laurels of Hudsonville in 2001 as a PTA, and then went to home care for two years with Sunset Home Care. He began at The Laurels of Sandy Creek in 2006.